Join the millions of people who have chosen a catchy and memorable domain name for their website. Check out this article to learn more about how you can do that!
Figuring out how to choose a domain name is like trying to figure out your company's identity. Your chosen domain name will be what people see when they first visit and therefore deserves some careful thought. Make sure it not only fits the business but also has an easy-to-remember URL, because whether you know about SEO or not, Google does!
Follow these steps below if you want help picking that perfect web address:
1. Easy, Short & Includes Keywords. 
Choosing a domain name is an important first step in establishing your online presence. It should be easy to type, short and simple, and include keywords that describe what you do or offer as the business owner. For example if you are in the glass replacement business then GlassRepair.com may be perfect! 
2. Geo-Target 
Your domain name is your business's online address, so make sure it reflects what you do. If you own a local company and want to keep customers close by, consider including the city/state in your web address so people know exactly where they need to go for their specific needs! For example: PhoenixGlassRepair.com
3. Avoid Number & Hyphens 
People often misread numbers and hyphens in the various variations of a domain name, especially when hearing or reading it. Registering for your different domains – with their respective number formats (5 vs five) or dashes (-), is critical to avoid confusion among visitors who may not know what you want them to do next! So buy all variations just in case! 
4. Make It Memorable. 
Remember, a catchy domain will help you grow your company by helping potential customers and clients find you online. If unsure about the perfect name for your website or business page on social media, search available domains to see if one pops out at you – it might be just what's needed!
5. Research More About It
Researching your domain is crucial before you jump on board. Researching your name as a domain will help you know the value of your site. Your company's worth is not just its assets, but also what it can generate through online marketing campaigns and product sales.
Imagining owning any domain like "yourcompanyname" may seem too good to be true, especially if you are an individual who has little finances or business connections with other firms that could work in conjunction with yours for mutual benefit; however knowing how valuable one's personal brand is should make the decision-making process much easier.
The domain name you choose can make or break your company. It is important that the name does not infringe on any trademark, copyright, and other companies using it because there is a chance of legal ramifications if this happens!
6. Choosing The Perfect Extension 
There are many extensions at the end of web addresses, such as .com or.net. These can have specific uses: for example,.com is most popular but it may be tough to get a short and memorable one because that domain has been around since 1990s! A new generic top-level domains – like .app, photography.,nyc and guru — offer an opportunity to register short and highly relevant names which also emphasizes your brand in internet searches. here are some other top extensions and how they're often used:
.co : an abbreviation for company, commerce, and community.
.info : informational sites.
.net : technical, Internet infrastructure sites.
.org : non-commercial organizations and nonprofits.
.biz : business or commercial use, like e-commerce sites.
.me : blogs, resumes or personal sites.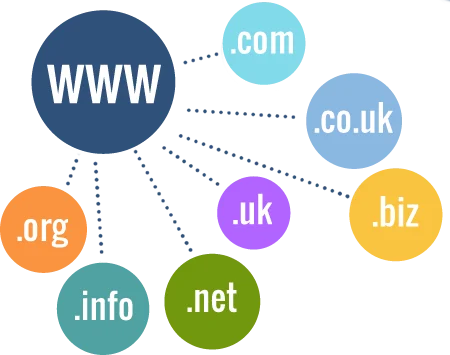 7. Protect Your Brand, Even Spelling Mistakes Are Huge! 
With a domain extension, you can ensure that customers will always find your website. This is especially important if they happen to misspell the URL by accident! Make sure to register all of these variations so that nobody else can take them away from you and send people on an unwanted web-adventure instead!
8. The Time To Buy Your Domain Is Now!
Register your favorite domain names quickly! Domain buyers are pleasantly surprised when they find out just how affordable some domains can be. If you're having trouble finding an available name, there's no need to fret; many registrars like IntentJet have suggestions for alternate domain availability during search time that will help you get the perfect one in no time at all.
Register Your Domain Now!